Craigievar
Teachers' review
Andrea Drummond – My Story
Why?
The story has to start with where I thought I was with outdoor education, as this will give the reader an idea of why I should participate in the research.
Since starting teaching, nearly 20 years ago (bit scary to write that bit), using the outdoors as part of the pupils learning experiences has always been important. It has also been the reason I have undertaken the teaching posts I have – access to outdoors and easy access beyond the playground. Currently my class do regular, but not enough, of their education outside.
How?
Reflecting on current practice and accessing appropriate CPD is essential to improve learning and teaching. Most of my recent CPD has been around managing change in schools as we become engaged in A Curriculum for Excellence. Part of this has involved a much more collaborative approach with the local network of schools.
Initially, I was part of 4 teachers all based within the same network on this project and one from a neighbouring network. This collegiate approach appealed to me as it would provide support.
The initial workshop followed by visit to Burn O'Vat allowed me to evaluate my current approach and look at ways to use the area. Discussing possible activities and learning experiences for the children with other practitioners developed my thinking throughout the initial visit and beyond.
What?
The day was perfect, all alternative plans for weather, not having enough time and organisation of groups was not needed. The pupils needed to visit the Vat as they knew that it was part of the area. Despite having been there before with parents, pupils were in awe of the scale. A lot of discussion around the geographical features, although not planned as an activity was a response to pupils inquisitive questioning. At this point I was glad of the input from site staff on the pre-visit.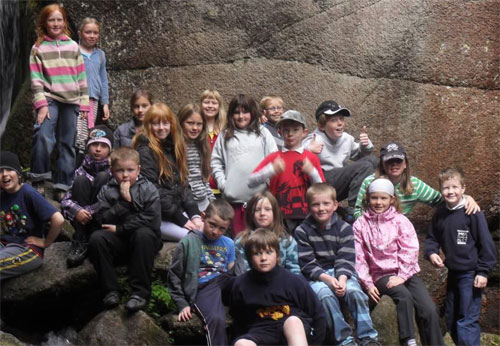 Responses to Greg's Questions
1. We have a sense that the places have become differently meaningful for you and the children as first and repeat visits are made. Let us know about this first.
The children have only made the one visit last June, the next visit will be round May/June this year.
I have visited the site many times professionally and personally over the last year. Initial visit as part of the teacher groups started thoughts moving around my head as to what could be achievable in the space, I was also keen to move away from trips that the class had previously experienced. The second visit, professionally, was with the class where although I thought the day went really well, it is only looking back at photographs and videos you see the relaxed, but keen to learn, faces of the children.
Recently I returned to the site as part of a LTS course, where Brian Spoor and the ranger took a group of teachers around, kind of like our initial visit, but I found myself looking beyond what I had done before and thinking about using other parts of the area and buildling on the previous work and enthusiasm from the pupils in using this space.
I am hoping to return next term where I plan the focus to be part of our class topic which we are calling " A Whistlestop tour of Scottish History!" this would be to look at how humans have used this space, settlements, land use etc.
2. What would you say was the purpose for your visit(s)? How did your plan work out in practice? Did new purposes emerge as you executed your plans and made subsequent visits? (Some of you have provided lesson plans too so thanks for those if you have them)
The main purpose of the visit was transition, we took the group of pupils who would be our class for the next academic year. This was when the current P7's were at the academy. We had 21 pupils of P3-6. Building on a topic we had studied as a whole school on traditional tales and nursery rhymes, we created a variety of learning experiences based on the tale of Thomas the Rhymer. The purpose did not change as we feel the goals of transition were achieved, the "new" class worked co-operatively and led to an easy start in August when they returned to school.
3. What do different pupils say was valuable during after the events? What do YOU consider to be valuable having been out once/more than once?
The pupils enjoyed doing literacy and drama outdoors, this led to an increased enthusiasm for different and more challenging outdoor learning. Building on outdoor learning already at school which was mainly around science and "forest school" it opened their minds to using the spaces out of the classroom for any aspect of the curriculum.
I think that the value of the day was to see how the different personalities in the class began to work together and this has continued with the class throughout the year through introduction of co-operative learning throughout the school. Looking at the video of the visit I can see now how the pupils have improved in their ability to work together in a more effective way. Confidence in the pupils to achieve is high and the ethos in the class is a "we can".
4. Can you name some outcomes for your class groups (of for individuals)? [These could be differently expressed to the Curriculum for Excellence listed outcomes!]
Outcomes: Social interaction and inclusion - the day broke down some of the social groupings previously made as we worked the pupils in mixed ability/mixed year groups. Motivation - an enthusiasm for learning established as the class saw success through building on prior learning and extending this outdoors and in the classroom...
5. What structures, and approaches made the visit(s) possible or more challenging? (We are interested in all factors but some of you have mentioned training for health and safety, timetable, transport, costs, as well as school ethos and headteacher support for example)
Support from parents as additional volunteers was essential to emply the appropriate adult to pupil ratio.
Apart from that, the prior visit and work with the site ranger meant that I had all the information that I needed.
6. What teaching and learning strategies for connecting pupils, teachers, activities and environments together have worked best for you? Why do you think this?
As previously mentioned we used mixed ability/mixed age groupings and kept these groups all day with pupils rotating around 3 activities. Pupils had a range of learning experiences which had been created to demonstrate the same learning but in different ways e.g. through drama, through talking/listening and creating, some activities were more discussion based, some more visual. Because of this pupils gained a greater understanding of the story as well as the different strengths of their new classmates.
7. Does the process of going on outdoor visits to natural areas have any distinct phases or perhaps a 'lifecycle'?
I think this depends on the purpose of what you are doing. If you have a site like Burn O'Vat on the doorstep which can be used for such a variety of learning purposes then this is an extremely fortunate situation. I think that there is also something to be said about visiting sites at different times of year, even if you are not looking at seasonal change directly this can be observed by the pupils and they can begin to identify with how the site changes around the year. Also for pupils, it is good that they are aware that a relatively small area can have a lot of purposes and a lot of learning . Having experienced recently how too much of something can lead to complacency in an outdoor setting, it was good to see the pupils see the purpose of learning outdoors again and this enthusiasm has continued throughout the year. However, I have made sure that when using the outdoors there is plenty of variety in what the pupils are doing. It also is important that the pupils voice is taken into consideration, working with pupils in planning learning experiences in or outdoors leads to much more success and achievement
In summary the project to date has allowed me the opportunity to further develop my skills in using the outdoors and also increased my awareness of a local area of geographical, historical and natural interest. It is planned that we return to the site during the summer term to look at evidence of settlement. For me working with other teachers has expanded my understanding and confidence.
WALKING BOOTS ON EVERYONE……(Now have boots and waterproofs at school most days I am teaching to get out an learn)